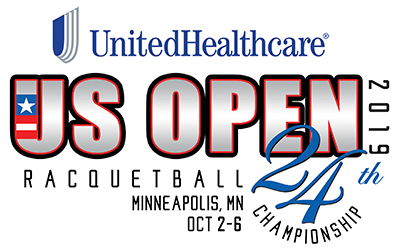 Here we go; the biggest tournament I think i've ever covered is upon us. A massive 94-man pro draw features 78 players playing in the qualifiers to advanced into the round of 32.
R2 Sports Tournaments draws are here: https://www.r2sports.com/website/event-website.asp?TID=30501
Here's a prevew of some of the projected match-ups I'll be looking for on the first day of the US Open 2019. Below are fun match-ups to look for in the 3 rounds of qualifying.
In the opener/round of 256:
– #68 Colombian Francisco Gomez takes on Mexican youngster Manuel Moncada in a good opener for both.
– Two top east coast amateurs face off in #78 Floridian Jonathan Burns versus #83 New Jersey native Samuel Kelley. Kelley played well at the Laurel event two weeks ago as a nice warm-up to this event, while Burns has been playing the US Open for more than a decade.
– #79 Diana-Shai Manzuri versus #82 Lukas Le; what an interesting match-up here: the international veteran and long-time Argentinian representative Manzuri (who practices medicine in Texas) faces up against a fellow Dallas-area resident in Le, who's currently playing intercollegiates and is half Shai's age. Will youth or experience win out?
—–
In the round of 128 (assuming some play-in match results):
– #41 Mexican Ernesto Ochoa takes on Canadian veteran Tim Landeryou. Ochoa is a dark-horse here; he's got multiple wins over IRT top 10 players in the last two seasons. Landeryou played two pro stops last year and can make trouble for any opponent.
– #37 Colombian Set Cubillos ruiz takes on #60 Texan A.J. Fernandez in a match that could be closer than the seeding looks.
– Current Intercollegiates reigning champ #45 Erik Garcia takes on #52 Mexican Christian Longoria. Garcia is a tough out, with several wins over regular IRT touring pros. But Longoria has a unique playing style and has some significant wins on his resume too. Great match-up.
– #77 Jaime Martell Neri takes on #20 Costa Rican Felipe Camacho in a solid match for this round. Martell left the old WRT as its #1 ranked player and won the 2018 WRT Georgia Open with wins over Horn and Bredenbeck along the way. Camacho missed the first two IRT events and may be stepping back from touring, but is a solid player worthy of his top 20 ranking. Look for a barn burner here.
– #36 Troy Warigon vs #62 Yacouba Keita an unlucky match-up between two good friends and sometimes doubles partners; they also met in the qualifiers at Laurel, a tiebreaker win for Warigon is what happened in Maryland two weeks ago and what should happen again here.
———
In the round of 64 (again, assuming some earlier match results):
– #33 Javier Estrada vs #32 Bolivian 16U Diego Garcia Quispe. 32 vs 33 never disappoints; Estrada had an unbelievable tournament this summer, topping four of the best 15 players in the world to take the Black Gold cup, but his results have been hit or miss since. This will basically be his first appearance in earnest on the IRT, ever (he played in 2010 as a 15yr old when the tour came to his home-town of Chihuahua for his sole previous IRT appearance). I'm highly anticipating his performance here. To get to the main draw though, he has to go through a tough up and coming Bolivian player in Garcia, who has a slew of World Junior titles and is the current reigning 16U world champ. Garcia can hang with Estrada but it should be a win for the Mexican here.
– #24 Javier Mar vs #41 Ochoa; great match; Mar is no longer the dark-horse in these major events like he used to be; he's got National titles in singles and world titles in Doubles to his name. And every time he shows up at the US Open he makes a deep run. Meanwhile Ochoa is a dangerous opponent here and has the capabilities of making the 16s or quarters of an IRT event, but I like Mar's experience to move on.
– Assuming earlier results, Garcia is set to meet Martel for an entry into the main draw. I think either player could win, I think Martel should be favored but he has to play one additional match on Wednesday which could sap his endurance enough to cost him here. Look for Garcia to outlast Martel to move on.
– #27 Mexican native and Colombian national Eduardo Garay Rodriguez vs Bolivian turned DC-area native MoMo Zelada; A fun match-up here between the under-rated Zelada (who has shown he can hang with top players) and the powerful Garay, who just took the Colombian national championships over 10th seeded Mercado and can play. If you're in the club when this match is going on, you'll know it b/c Garay is one of the hardest hitters on tour.
– #22 Jansen Allen vs #54 Andres Gomez; Gomez is an upset pick to get here by seed, but he's gotten some results this year, including an upset of Mercado in the PARC event in april 2019 while representing Colombia. Allen is a former top 10 player who has missed the first couple of events this season after many years of consistently touring; he's got his work cut out to get to the main draw here.
– #31 Maurice Miller vs #34 Nick Riffel; a tight match between two touring regulars. Miller's been active in events this summer and fall, while Riffel has missed the first couple IRT events and seen his ranking slip a bit. I like Miller here in a tiebreaker.
– #18 Costa Rican Andres Acuña Quesada vs #50 Alejandro herrera; Florida native Herrera first played the US Open in 2003 and represented Colombia internationally as recently as 2016. He's a hard-hitter who relies on his serve to generate points. Acuna has seen his rball career drive forward in jumps lately; he made the semis of 2019 PARC, made the quarters of the Laurel IRT event and just made the singles final of Vegas 3-WallBall despite barely playing outdoor before. He's a tough out.
——————–
My predicted qualifiers (in the order of the Qualifying draw on R2sports, not in seed order or Qualifier # order):
Robert Collins
Javier Estrada
Carlos Keller Vargas
Javier Mar
Thomas Carter
Kadim Carrasco
Alan Natera Chavez
Erik Garcia
Charlie Pratt
Troy Warigon
Eduardo Garay
Jansen Allen
Sebastian Fernandez
Adam Manilla
Maurice Miller
Andres Acuna
———————-
we'll preview the main draw once the match-ups are determined after Wednesdays' qualifiers.
Next up; a preview of the LPRT qualifying.
———————-
UnitedHealthcare US OPEN Racquetball Championships
International Racquetball Tour
USA Racquetball
Racquetball Canada
Federación Mexicana de Raquetbol