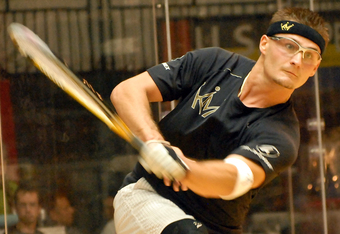 Congrats to Kane Waselenchuk on his win at the 41st annual International Racquetball Tour Lewis Drug Pro Am this past weekend in Sioux Falls SD.
Click here for the match report in the database: http://rball.pro/6EC5CF
With his latest win, Kane extends some amazing records:
– this is his 114th career pro title, 43 more than the player in 2nd place (Cliff Swain). By way of comparison … Sudsy Monchik won 43 titles in his whole career … and now Kane leads the 2nd place tourney winner by that same amount. See http://rball.pro/B173E8 for more.
– This extends his current match winning streak to 78 matches, 3rd longest ever. See http://rball.pro/8696B9 for more.
– This extends his current GAME winning streak to 64, which is still a long ways from his amazing 113-game winning streak record, now that the tour has gone to best of 2. He'll need to win the next 7 tourneys w/o dropping a game in order to challenge that record.
Its also notable that Kane has yet to drop a game since the tour went to best-of-three scoring. In fact the closest someone has come in a game has been 12 points. Nobody's gone any higher.
The results of this event will result in a shake-up of the current rankings. Kane should ascend to #1. Landa will drop to #3, just barely ahead of DLR for now. Parrilla should rise from #8 to #5. Montoya will rise from #18 to #16 … but the next time he enters he should be on the opposite side of the draw from the #1 seed, making it easier for him to advance deeper.
Meanwhile, in terms of Season-to-Date rankings, DLR sits just behind Carson in 3rd place, and would be easily in 2nd had he not missed the first event of the season. Given that DLR has 3 finals on the season and Rocky has just one … DLR is well positioned to ascend to the #2 ranking by the time the season is over.
———————————
Here's a review of the notable results (to me) by round:
In the 64s…
– North Carolinian and infrequent IRT player Brent Walters played the World Champ Rodrigo Montoya Solis tough, losing 7,13. Good showing by Mr. Walters.
– Racquetball Canada's Tanner Prentice took IRT pro Robert Collins to a tie-breaker before falling. His country-man Lee Connell also played an IRT regular tough, falling in two close games to Nick Riffel
– USA Racquetball 18U national champ Ricardo Ricky Diaz played 18U World finalist Sebastian Fernandez tough, falling 12,12.
– Charlie Pratt took out Andrew Gleason, who was making his pro debut. This is notable in that Gleason just competed in the 14U (!) division of Junior Worlds, losing in the finals. He still has at least four junior years underneath his belt and played well against a former IRT pro tournament winner in Pratt.
– Biggest upset of the round may have been Sam Bredenbeck taking out #14 Thomas Carter in an 11-9 breaker. Big win for the younger brother of Jake.
– Another upset was Iowan Brad Hansen, playing in his first pro event, taking out #22 Scott McClellan in a tough 11-8 breaker.
– #10 Jansen Allen reportedly fell ill and withdrew from the event after the draw was published, giving local player John Goth a walkover into the 32s. This was the first time Allen has missed an event since the 2012-13 season, and it breaks a consecutive appearance streak of 64 matches, the 12th longest ever such streak in the pro tour history.
– Gerardo Franco Gonzalez was stretched to a tiebreaker by long-time IRF veteran Alejandro Herrera Azcarate, eventually eking out an 11-9 win.
—————————
In the 32s:
– Montoya made quick work of Collins in the 16/17 match to setup the anticipated rematch against #1 Alex Landa on Friday.
– #9 Mario Mercado was the unlucky tour vet forced to play former IRT pro Tony Anthony Carson in qualifying … and indeed he lost in two quick games.
– Teenager Sebastian Fernandez got a career win, topping the veteran Charlie Pratt in a tiebreaker. In case you were wondering why we marvel at the continued success of Fernandez … he's still got one year left of junior racquetball! He's just now entering his age 18 season, having won Mexican 18U junior nationals over Eduardo Portillo Rendon but then losing in the Junior World finals to Portillo later in 2018. 
– Adam Manilla played a tough, close match against Mauro Daniel Rojas and advanced 11,14.
– Sam Bredenbeck got his second "career best" win in a row, downing another IRT touring player in Nick Riffel 12,13. 
– John Goth got a solid win over Canadian Tim Landeryou 13,7 to advance and face Jose Diaz. We havn't seen Goth on the IRT since 2013, and not in a pro event in more than a year, but he's definitely a solid player and will be a tough out for Jose (who lost to him in the 2012 US Nationals).
– Gerardo Franco got a solid win in the #15/#18 seed match over veteran Felipe Camacho to advance to another main draw. I often wonder about players like Franco, who get "stuck" right in that 15-18 Seed range on tour and thus constantly play right into the #1 and #2 seeds. He'll likely need a stunning round of 16 win to get out of that range and start playing into "easier" opponents in the main draws.
Qualifying summary: only three of the eight "seeded" players in qualifying advanced (#11, #13 and #16 seeds), but several of the upsets we saw by seeding were definitely not upsets by talent. We should see some great main draw matches.
——————————-
In the 16s:
– Landa and Montoya went head to head and it was as close as it could be: 11-10 in the tiebreaker. Montoya came out on top this time, beating the #1 seed and defending champ in the 16s. This represents one of the earliest exits for a #1 seed in the last decade or so, thanks to unfortunate seeding. 
– Alvaro Beltran handled the upset-minded Tony Carson in 2.
– Samuel Murray blitzed the 18yr old Fernandez 7,1, ending any shot at further upsets by the teen-ager.
– Daniel De La Rosa played a closer-than-he may have liked match against Manilla, advancing 13,10.
– Kane Waselenchuk made quick work of the younger Bredenbeck in his first main draw match 5,2
– Andree Parrilla got his first h2h win over Jake Bredenbeck by the odd-looking scores of 14,(14),0.
– #7 Jose Diaz continued his strong season by advancing to the quarters over the tough amateur John Goth.
– #2 Rocky Carson outlasted Gerardo Franco 10,4.
Last event, I predicted Montoya would beat Landa at this stage, and the reverse happened. This time, I predicted a Landa win at this juncture … and the reverse happened. These two are so close; any given sunday either one can beat the other.
————————
In the Quarters…
– #16 Montoya downed country-man Beltran in two to advance to the semis.
– #4 DLR took out Canadian Murray in two
– #3 Waselenchuk beat Parrilla in a rematch of the quarters from last event, this time by the more respectable scores of 8,11
– #2 Carson took out #7 Diaz in two.
———————
The semis were two interesting match-ups:
– DLR absolutely trounced Montoya in two games 1,4. This was a pretty shocking result for me, given their history. Here's some of the match-ups between them in the last year:
o Montoya beat DLR in the Men's Mexico National final in Feb 2018 3,12
o DLR then beat Montoya in the Worlds selection event final in June 0,8 (but I wonder about that score, since both qualified for Worlds by virtue of making that final).
o DLR took out Montoya in the final of the Dec 2018 Mexican Open.
So, it looks like DLR has Montoya's number for now. We can only hope we continue to see Montoya in IRT draws.
– Kane beat Rocky for the 74th time in 77 meetings to advance to the final.
—————-
The final represented the third meeting between Kane and DLR for a tourney title this season, establishing a clear trend of some movement in the eventual season ending rankings. Unfortunately, all the momentum DLR gained in his excellent run to the final was for naught, as he came out very flat against the ever-consistent Kane and was wiped out in the final 4,2. This represented one of the most one-sided finals in the history of the pro tour, tied for the 2nd worst finals beating (in two or three game formats).
—————-
In the doubles …. the top team in the world (Beltran & DLR) got upset in controversial fashion in the semis, losing to eventual winners Montoya/Parrilla 11-10 in a match ended with an avoidable hinder call. They beat #2 seeded Landa/Murray in a close final 11,11 to take the crown.
Click here for the doubles match report: http://rball.pro/3F25F9
——————
Another excellent Lewis Drug event in the books! Next up for the IRT is a popular Tier 2 in Wisconsin in two weeks time, but we don't have another Tier1 scheduled for two months.