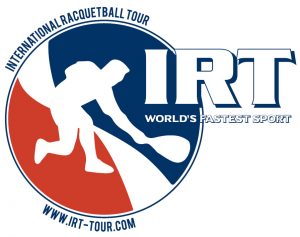 Today, the Thursday of the US Open, is perhaps my favorite day of pro racquetball all season. Two rounds of top-level pro racquetball on both the men's and women's side. Lets take a look at the notable Men's matches from today and preview the Quarters tomorrow.
IRT round of 32 notable matches.
– Felipe Camacho got a solid win over Thomas Carter in the always-competitive 16-17 match-up, taking the tie-breaker 11-8.
– In his first game back since his retirement talk this past off-season, #3 Kane Waselenchuk took out a player less than half his age, defeating Mexican 18U and current 16U world titlist Sebastian Fernandez in two. The kid is just 17 years old and played fantastically this weekend in both singles and doubles.
– Alvaro Beltran, playing in his 19th US Open, was the first to advance to the 16s on the day, downing country-man Rodrigo Rodriguez, who was making just his second ever IRT appearance.
– Veteran Charlie Pratt ended Bolivian 16U player Diego Garcia Quispe run 12,5 . Just to re-iterate; both Fernandez and Garcia are in their age 17 seasons.
– Javier Mar upset #14 Adam Manilla 5,14.
– Daniel de la Rosa took out Ricardo Diaz, the reigning US 18U champ, in his IRT debut. A great showing from Diaz on his pro debut beating two very solid IRT semi-regulars in Nick Montalbano and Troy Warigon.
– Huge upset win for Andres Acuña, downing #11 David Horn in a tiebreaker. Two straight one-and-dones in the first two IRT events for Horn, who lost his opener in Laurel as well. Not a great start to the season for Horn, who made a big step forward last year by making his first semi and first final.
– Mauro Daniel Rojas stretched #6 seed Sebastian Franco, but the Colombian prevailed 11-8.
– Maurice Miller gave #2 Alex Landa a scare, taking the first game before falling in a tie-breaker.
– Samuel Murray got a fantastic win, holding off the dark horse Luis Conrrado Moscoso Serrudo in a tie-breaker; this was a quarter-finals quality matchup
in the 32s and sends home Moscoso much earlier than last year (when he ran to the quarters in his only prior IRT appearance.
IRT round of 16 notables matches:
– In a surprise to me, #8 Mario Mercado came back from a game down to top current IRF World Champ Rodrigo Montoya Solís. This observer thought Montoya had a good shot at making the finals in this event; I wonder how much Montoya's recent ankle injury has affected him this week.
– #12 Jose Diaz got perhaps the best win of his career with a tie-breaker win over #5 Beltran.  Some post-game drama; reportedly Diaz was 25 minutes late to this match but was not penalized or forfeited.
– Javier Mar more than held his own in losing to #3 Waselenchuk 12,10.
– #10 Andree Parrilla easily handled #7 Murray, perhaps worn out from a brutal earlier victory. Parrilla has now made the quarters in 4 of the last 5 IRT events he's played, and 7 of the last 11 stretching well into last season; that includes a win and a final too. He's a dangerous opponent who is one or two more big results from being a protected seed going forward.
Quarter Finals Preview:
6 of the top 8 seeds ended up advancing, setting up some very solid match-ups in the quarters. Run the top-20 tour-wide Head to Head matrix (link here: https://bit.ly/2yf522N) to fire off a new Head-to-Head "Tale of the Tape" report complete with pictures, biographical information and detailed match history for players in the IRT top 20.
– #1 Carson v #8 Mercado: Rocky is 6-0 lifetime against Mercado on the IRT, and despite Mercado's great win today, I see Rocky making it 7-0. Both are control players, but Rocky will out-control Mario's control game.
– #4 De La Rosa vs #12 Diaz: DLR is 4-0 against Diaz on the IRT, and is playing really solidly this week. Diaz fights for every point and punches above his weight class though, and won't go down without a fight.
– #3 Waselenchuk vs #6 Franco: Kane is 2-0 over Franco lifetime, but despite Franco's crisp play you never bet against the king.
– #2 Landa vs #10 Parrilla: Landa is 2-1 over Parrilla on the IRT, but 6-2 lifetime across multiple tours and Mexican National events. They've had close games and blow-outs. Parrilla seems like he's in every match these days, and quietly he's made the quarters in 4 of the last 5 events, and 7 of the last 11 pro events, a span that includes a win and a finals appearance. Landa will need to be "on" out of the gate.
Prediction: going chalk; 1,4,3 and 2 into the semis.