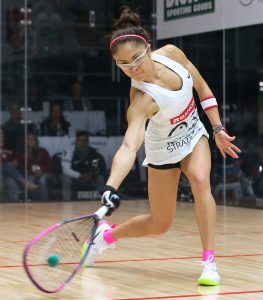 Congrats to #1 Paola Longoria, who was a double winner on the weekend, taking the Singles draw over #2 seeded Samantha Salas Solis, then teaming with Salas to win the pro doubles draw.
Longoria and Salas have now met in the finals of each of the season's first four events, solidifying their lead at the top of the rankings table. Longoria improves to 46-3 against Salas on the pro tours with the win. This win represents Longoria's 86th pro title in the database (though we may be missing some of her earlier tourney wins; a situation we're working on rectifiying). Lastly, this tourney extends Paola's current match winning streak to 21 games; she's won the last 5 pro events.
Lets take a quick run through the singles draw. Here's the match report in the database:
http://www.proracquetballstats.com/cg…/print_results_new.pl…
Upsets/notable results for me:
– Four regular touring players, coincidentally seeded 10th, 11th, 12th and 13th, were all upset in the first round of play. 4-time pro champ Cheryl Gudinas put a 5-game loss on Sheryl Lotts, then nearly beat Natalia Mendez, taking her to a 5th game tiebreaker.
– Junior up and coming player Angelica Barrios took out Adrienne Fisher Haynes and took a game off of #5 seed Rhonda Rajsich before bowing out.
– Michelle De La Rosa got a solid win over #10 Susy Acosta before falling in 3 closer games to #4 seed Maria Jose Vargas. De La Rosa (nee Key) has now played in 3 events this season, after playing just a handful over the past few years, and could be a force on tour if she continues to play. She's made a number of Quarters and even one Semi and is a dangerous opponent.
– Masiel Rivera Oporto played her 3rd event of the season and made her second round of 16; she's right in the range of seeding where she could continue to get opportunistic match-ups and keep moving up the rankings.
– I liked what I saw out of youngster Brenda Laime, who got past Erin Rivera before taking a game off of #2 seed Solis.
– 16U world champ Valeria Centellas was one-and-done in the pro draw, running into the 7th seeded Colombian Amaya Cris, but she played very well in the Women's Open draw, beating experienced American Sharon Jackson and then Lexi York before losing in two close games to experienced international player Adriana Riveros in the semis.
– Speaking of York; she made her pro tour debut after a pretty good juniors run (she was the 2015 USA 18U champ and made the semis of junior worlds that same year). Hope to see more of York in the coming years.
The quarters, semis and finals went almost perfectly chalk along the lines of seeds; the only discrepancy was #9 seeded Colombian Adriana Riveros defeating #8 Chilean Carla Muñoz Montesinos in the quarters. Neutral fans always want to root for upsets, but this tournament was missing four key names who normally would have provided some upsets to the current LPRT heirarchy. Namely, Montserrat Montse Mejia, Ana Gabriela Gaby Martinez, Frederique Lambertand Nancy Enriquez.
—————
On the doubles side, the dominant team of Longoria/Salas easily took this tourney, crushing Alexandra Herrera & Munoz 2,9 in the final.
Here's the Doubles draw Match report:
http://www.proracquetballstats.com/cg…/print_results_new.pl…
The Longoria/Salas team is now 71-3 together since we began tracking LPRT doubles in 2013. Longoria has won 36 of the 41 doubles draws she's entered in that time, most of them won with Salas. I still can't quite believe they were upset as a team at the 2018 Mexican selection event, thus preventing them from competing in Worlds this past summer.
—————-
Next up for the LPRT: the Christmas Classic in Laurel, MD.