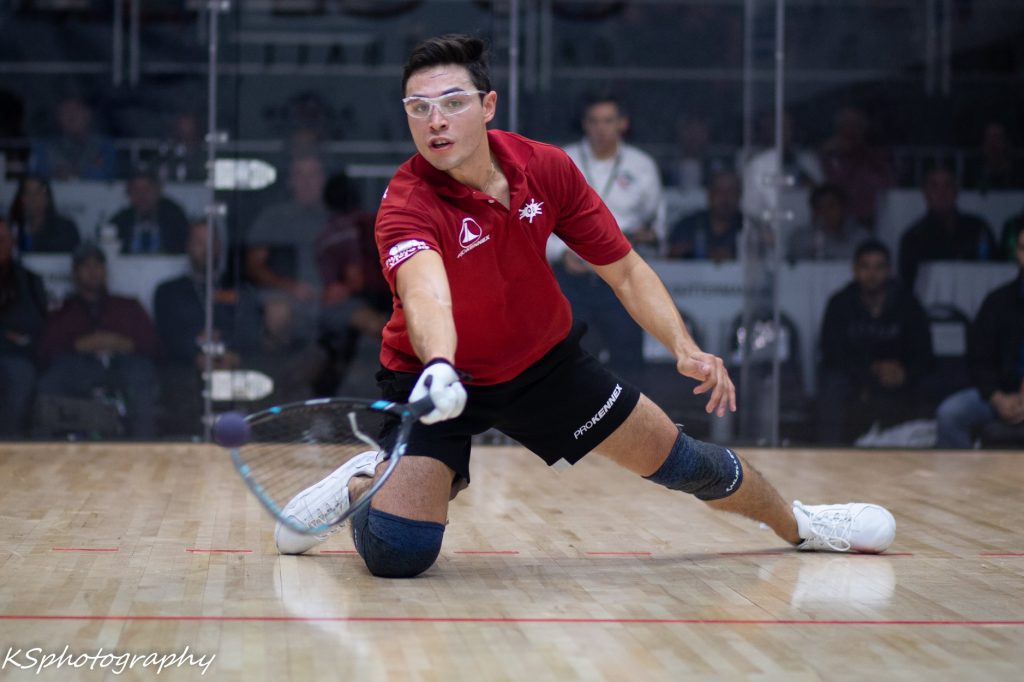 Hot on the heels of the Longhorn Open, we have one of the longest running tournaments in the nation being held in Sioux Falls, SD. its the 42nd annual Lewis Drug Pro-Am.
Renowned for its hospitality for the touring pros, this event has become one of the favorite stops each season, and continues to draw players from far and wide.
The Lewis drug pro-am is also known for delivering fans of the sport upsets and surprises. To wit, here's some of the surprising results from past years:
– in 2019, #1 Alex Landa was upset in the first round by fellow Mexican and eventual World Rodrigo Montoya Solís. Montoya made a run to the semis before falling.
– in 2018 Landa got his first ever IRT Tier 1 win as the #8 seed, topping #1 Rocky Carson in the quarters and then winning a thrilling 11-10 tiebreaker over countryman #2 Daniel De La Rosa to win the title.
– in 2017 Landa made a run to the semis as a 14 seed, and DLR got just his second ever pro win in the final.
– in 2016 Jose Rojas topped both the #2 and #3 seeds to make the final before falling to #1 Waselenchuk
– 2015 featured a mostly chalk draw, with Kane at #2 topping Rocky at #1 but not before both the 3 and 4th seeds fell in upsets in the qtrs.
– 2014 was the final pro appearance of long time touring vet Mike Guidry, who hadn't entered a pro event in years after retiring in Jan 2006. He fell in the 16s to eventual tourney finalist Alvaro Beltran.
So that's some fun history.
The 2020 instance is also setup to perhaps provide some surprises … because we have late breaking news that #1 Kane Waselenchuk is ill and is not attending. So now we get a wide-open draw and possibly some surprises. And, let me tell you, projecting out the tourney here I see the possibility for some fascinating, rarely seen match-ups between top players.
———————-
R2 Sports App link:https://www.r2sports.com/tourney/home.asp?TID=31789
36 players entered, and its a solid draw. As we saw in Austin, we have a number of non-regular top players in this draw waiting to make some noise. The biggest question mark for me is the health of Moscoso; he hobbled out of the Austin event and looked like he may have badly hurt his knee.
We are using a slight flip seeding this time, but thanks to the absence of #1 Kane just one top 8 seed got flipped away from where they should have been: 9th ranked Portillo got a top 8 seed, then got flipped 5th seed in the event. Seeds 6,7,8 mirror where the players are currently ranked.
Top-20 players missing; past Kane, we're missing #10 Sebastian Franco (who misses his 3rd event of the season), #14 David Horn (who misses his 4th event of the season), and #17 Eduardo Garay, who misses out on a chance to build on his big wins last weekend in Austin.
——————————
Lets preview the draw. Here's some notable qualifying matches that i'm looking forward to:
In the round of 128:
– The tour welcomes back #32 seed Tony Carson Racquetball, who tore his Achilles heel nearly a year ago. He plays Minnesota-native Lee Meinerz, who hasn't played an IRT event in several years but could be a good first-back-match for former top -10 player Carson.
– there's three other play-ins in the round of 128, all involving non-tour regulars from the mid-west or Canada. Its great to see the tour in areas where these guys can travel and play.
———————————-
In the round of 64:
– #17 Sebastian Fernandez, who has struggled to make it to events this year and has seen his ranking fall, likely faces Carson to move on. A solid match here that could go either way, depending on how recovered Carson is from his injury. Its worth noting that in the last three IRT events that T.Carson has played … he's got wins over De La Rosa, Parrilla and Mercado.
– In the #24/#25 seed, Kadim Carrasco takes on former touring regular Jansen Allen in an interesting match. Allen has taken a significant step back from touring and missed an event close to home last week in Texas but travels to South Dakota for this one. this could be a close match.
– #21 Felipe Camacho vs #28 Sam Bredenbeck: Camacho is another former top-10 touring pro who has stepped back from touring, now seeing his ranking fall into the 20s. He faces off against the younger Bredenbeck, who got two solid wins over tour regulars at this event last year to make the main draw.
– #22 Alan Natera Chavez vs #27 Charlie Pratt Racquetball; wow, what a tough match in the 64s; I think both of these guys are pushing for top 10 spots if they were still touring full time, and now they meet here. As I often observe, Natera can be hit or miss; one day he's beating Montoya and Mar (as he has done in the last two Mexican Nats), then the next day he's losing to relative unknowns in local events. Meanwhile, Pratt has a history of getting solid wins even as he curtails his touring.
– #18 Robert Collins vs #34 Tim Landeryou; Assuming Landeryou gets past Andres Gomez in the play in, he faces an opponent that he can hang with in the 64s. Could be an upset in the making here.
——————————-
Projecting the 32s: here's some possible match-ups to watch for and some upset warnings:
– #16/#17 Adam Manilla vs the Fernandez/Carson winner: Was last week's version of Manilla a one-off fluke, or has he turned the tide under the tutelage of a new coach Jim Winterton? This will be a good first test; which ever player advances will be a tough opponent that, up until last week, I'd have favored over Manilla. Now? I'm not so sure who to predict.
– #14 Andres Acuña vs #19 Javier Mar: Acuna has to be frustrated with this draw; the under-seeded Mar can beat practically anyone at this tourney and he travels through Acuna to get into the main draw.
– #11 Mario Mercado vs the Natera/Pratt winner: Pratt has never lost to Mercado in an event PRS tracks, and hasn't played Natera in nearly 5 years. This is an upset warning for a 20-seed to advance here.
——————————-
round of 16:
– #1 Alex Landa vs #16 Manilla: so, assuming that Manilla gets here … is this a possible 16 over 1 situation? I mean, Landa as a #2 seed was upset by the 18th seed Garay last week, and Manilla had the best event of his career with wins over Parilla and Mercado and going one game up on DLR. It wouldn't surprise me to see this be a 5,6 blow out for Landa or a monumental upset by Manilla.
– #8/#9: Samuel Murray vs Jake Bredenbeck; its a coin-flip between these two hard hitters; they've split their 2 prior match-ups and play a similar game style.
– #5 Lalo Portillo vs #12 Carlos Keller Vargas; Portillo has now been beaten in the round of 16 four straight times … and I think Keller makes it 5 for 5. These two play a very similar game style, which makes sense since they both are tall, lanky and have great court coverage. Can Keller finally break through and make a pro quarter? Or can Lalo reverse his trend of getting upset early?
– #4 Alvaro Beltran vs #20 Javier Estrada: well, last week I thought Beltran might get upset by a younger countryman who's been making waves in Mar … and I think the same could happen here. I also think back to back tourneys and flights add up for a 40-yr old; i'm predicting the upset here.
– #3 Andree Parrilla vs #19 Mar: a brutal round of 16 for Parrilla, who's coming off an upset loss in Austin in the same round. Not a lot of past history to go on; they met a few times on the WRT back in 2016-2017 range, and they met in a local RKT event in SLP late last year. They're about even on the court head to head through these matches; who will prevail here? I expect a dog-fight and for Mar to prevail in the upset.
– #6 Conrrado kevin Moscoso Ortiz Racquetball vs … someone. Is this Natera, Pratt, Mercado? It could be any of these guys. Bigger question is; how healthy is Moscoso here? Is he 100%? How much of a run can he make? If Moscoso is not at full strength, he can easily lose to whichever of these plays advances out of this section to meet him. Lets hope he's healthy, since he's traveled an awfully long way to play these events.
– #7 Daniel De La Rosa vs #10 Rodrigo Montoya Solis; Another gang-busters round of 16; this is the final of 2018 Mexican Nationals and the semis of this event last year. I think DLR has Montoya's number; the only win Montoya has over DLR h2h was in a match that had already guaranteed both guys spots on the Mexican international team. DLR looked like a new guy last week in Austin and despite being the 7th seed has a draw he must like to get back to the finals again.
– #2 Rocky Carson vs Gerardo Franco: both guys missed Austin; Carson still recovering from a knee op in December; is he 100%? I don't think Franco can beat him, but I wonder if Carson is ready to take on this deep field.
——————————
Projected Qtrs:
– Landa over Murray; Landa takes out his frequent doubles partner.
– Estrada over Keller: I like Estrada's big serve over Keller's tactical game.
– Mar over Moscoso: I sense Moscoso still isn't 100% and may fall at this juncture to a veteran pro
– DLR over Carson: DLR is hot, Carson is recovering, and when they do play its often close. I like DLR with the upset here.
Semis:
– Landa over Estrada: I'm not sure they've met …its hard to keep track of all the RKT draws that feature all these players. But by game style I think I like Landa to outlast Estrada.
– DLR over Mar; flip a coin between these two on the court, if it comes to this. I'll go with DLR just based on experience and recent form, even if I have Mar slightly ahead of him on my personal world rankings.
Finals; Landa over DLR, a rematch of the 2018 Lewis Drug final.
——————————-
Doubles review
Great doubles draw. I'd expect the #1 team of DLR/Beltran to make the final from the top, and for Mar/Montoya to make it from the bottom for a solid all-Mexican final. It'd be a rematch of the 2018 Mexican Nationals and I'd favor the #1 seeds.
———————————
Look for Streaming in the regular places; can't wait for this event! make sure to log in and say high to Dean DeAngelo Baer and Favio Soto on the facebook feeds.
International Racquetball Tour
International Racquetball Federation – IRF
USA Racquetball
Racquetball Canada
Federación Mexicana de Raquetbol
Federación Boliviana De Raquetbol – Febora
Federación Boliviana de Racquetball
Racquetball Colombia
Federacion Colombiana de Racquetball
Federación Costarricense de Racquetball