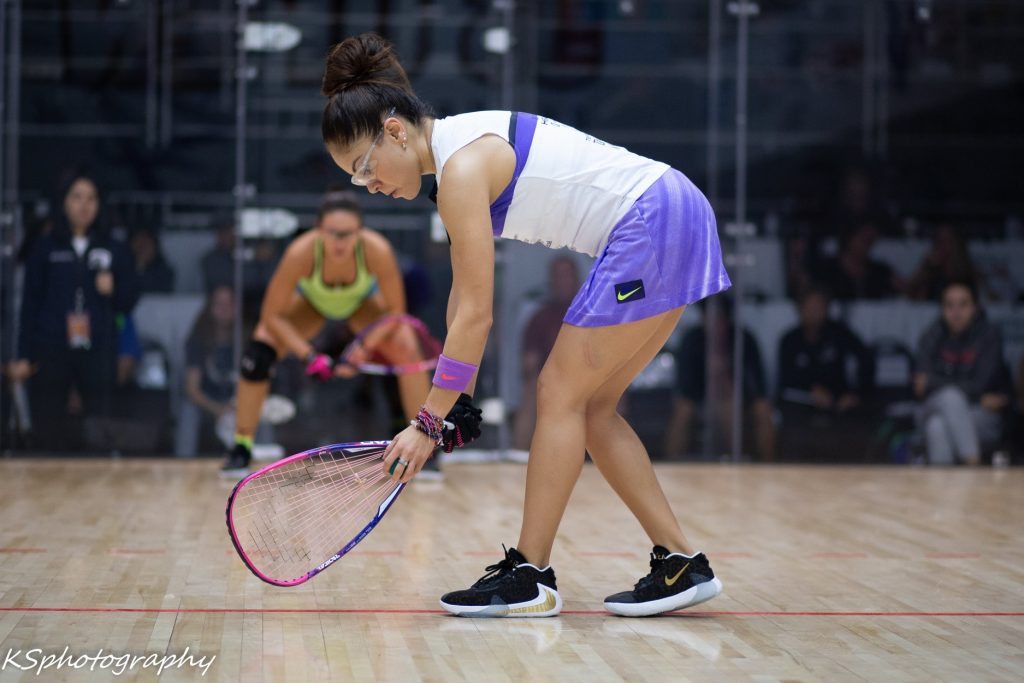 Congrats to your winners on the weekend:
– LPRT singles: Paola Longoria
– LPRT Doubles: Paola Longoria and Samantha Salas
Longoria the double winner on the weekend, but she definitely had to work for it (both finals went breaker). With the win, Longoria takes her 95th Tier1 or higher pro title and continues her dominance over the rest of the tour.
@ [275417952877375:274:R2 Sports App] link: https://www.r2sports.com/website/event-website.asp?TID=31661
Here's the notable matches (to me) by round in pro singles:
PRS singles match report: http://rball.pro/8743AB
In the 32s:
– #16 @ [1537006408:2048:Kelani Lawrence] stretched the reigning world champ #17 seed @ [967286746619683:274:Ana Gabriela Martínez] to a tie-breaker but fell.
– #18 reigning intercollegiate champ Hollie Scott dropped the first game but rallied to advance past #15 Maria Renee Rodríguez.
In the 16s:
– #1 Paola Longoria blasted #17 Martinez 2,5. More and more, the upset at 2018 worlds seems like a one off as Longoria improves to 16-1 lifetime against the Guatemalan across all competitions.
– #8 Amaya Cris took out home-town favorite Masiel Rivera Oporto 7,9 to move on. This match-up continues to be one sided, and this match wasn't nearly as close as their last one.
– Continuing to prove me to be an awful prognosticator, #4 @ [775189319225691:274:Alexandra Herrera] recovered from a 15-14 game one loss to take out #13 @ [459203580867542:274:Jessica Parrilla] in a tie-breaker to move on.
– #14 Carla Muñoz Montesinos got perhaps the best win of her career, topping #3 @ [189216717815799:274:Samantha Salas Solis] in a tiebreaker. After a come-back win in game one and a closer game two Salas win, Munoz ran away in the tiebreaker by forcing the action with lob Zs to Salas' backhand and a patient approach waiting for a mistake. Salas continues her frustrating season; she's now failed to reach the finals in the season's first 6 events, often getting bounced well before them … after reaching all 9 of the finals she played in last year.
– #10 @ [500057236758842:274:Sheryl Lotts] nearly pulled off a career win over a top8 player, but ended up losing by the slimmest of margins 11-10 in the breaker to #7 Nancy Enriquez.
—————–
In the Qtrs:
– #1 Longoria advanced over #8 Amaya in two straight.
– #4 Herrera got a rare win over #5 Rhonda Rajsich.
– #6 Mendez took advantage of #14 Munoz and advanced to just her 3rd ever pro semi. Munoz misses a great opportunity after her career win over Salas to make her first semi in several years.
– #2 Vargas dominated #7 Enriquez to make the semis.
—————
In the semis: #1 and #2 Longoria and Vargas demonstrated the gulf in class by each advancing in two quick games.
In the final, Longoria and Vargas met for the fourth time in five tourneys this season … and it was a barn burner. Longoria won the first game 3, then Vargas found some new approach midway through the second to push to a tie-breaker. There, she raced to a dominant lead and it looked like she'd get the upset … but Longoria found another gear and took the match 11-8.
—————
Doubles recap
PRS doubles match report:
It was a lot of chalk in the women's pro doubles, but the final is where the fireworks were. In the end, Longoria and Salas won their 32nd pro doubles title since we began tracking pro doubles data, but needed a come-back win over the Argentines Vargas/Mendez to do it.
—————-
Next up on the schedule: a @ [447961672301858:274:RKT] event in Juarez next weekend, then we get a holiday break until the LPRT returns to action 1/12/20 weekend in Ft. Lauderdale.
—————–
@ [477520325593928:274:LPRT]