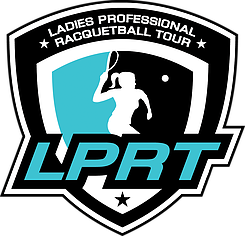 Here's a review of Thursday LPRT singles action and a preview of Friday's quarters.
LPRT round of 32 surprises:
– Argentinian Maria Jose Vargas (the #7 seed) was upset in the 32s, losing to Bolivian veteran international player Jenny Daza Navia.
– Brenda Laime Jalil got an upset win over American Sheryl Lotts in 4.
– #4 Alexandra Herrera was stretched as far as you can go by Michelle De La Rosa , winning 12-10 in the 5th. These two spent an awful long time on the court; the first game was 16-14 and two other games went "extra time." Tough match.
– Montserrat Perez came from 2 games down to upset #14 Adrienne Fisher Haynes.
– Ana Laura Flores got a upset win over #15 Susy Acosta in 4.
– Bolivian star Yazmine Sabja took out #10 Carla Muñoz Montesinos in 5 games, opening a pathway to the quarters.
– #1 Paola Longoria put two donuts on Erika Manilla … then was stretched to 13-11 in game three to advance by the odd-looking score of 0,0,11.
LPRT round of 16 notables:
– Ana Gabrielle Gaby Martinez had a much easier time with Enriquez this time around, advancing in four (they went 12-10 in the 5th earlier this season).
– Herrera rebounded from nearly being upset in the 32s to advance past Laime in 4.
– Mexican junior phenom Montse Mejia took a game off the #1 Longoria before the champ advanced in 4.
– In a battle of Bolivians, Sabja downed country-mate Daza in a battle of upset seeds to advance to the quarters.
Quarterfinals Preview: don't forget to run my LPRT top 20 Head to Head matrix to see the "Tale of the Tape" match-up reports for these matches
– #1 Longoria v #8 Natalia Mendez: Longoria 2-0 lifetime on LPRT against Natalia and does not seem likely to fall at this stage.
– #12 Martinez v #4 Herrera: Martinez is the underdog here by seed, but has been on a tear lately and is the favorite to advance.
– #3 Salas v #6 Rhonda Rajsich: Salas is just 6-11 lifetime against Rhonda, but has one 4 of the last 6 meetings on the LPRT. Salas has nearly completed her comeback from surgery last season and is the favorite to advance here.
– #2 Frederique Lambert vs #23 Sabja; They've met twice; once in an IRF event, once last year on the LPRT. Sabja took both. I sense her continuing her upset streak at this event. Sabja in 4.