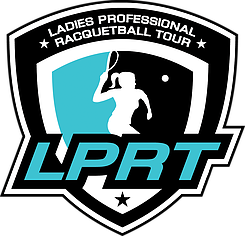 In addition to the huge International Racquetball Tour draw in NY this weekend, there's also a big LPRT draw AND a solid mixed doubles events combining both pro tours for just the 3rd time in the last few seasons (that i can see).
r2sports home page: https://www.r2sports.com/website/event-website.asp?TID=30716
Lets preview the ladies singles draw. 21 ladies present, including 14 of the top 15 ranked players (only missing the newly-retired Gaby Martinez, who still sits in the top 10 from results earlier this season) are here and the draw is solid.
Qualifying/round of 32 matches to watch:
– #16 Montse Mejia vs #17 Hollie Rae Scott; an interesting match between the reigning 18U junior world champ and the reigning USA RacquetballIntercollegiates champ. Mejia is favored here but Scott has wins over top 10 players in the past and won't go easily.
– #20 Maricruz Ortiz, a finalist in the World 16U juniors in 2018 and who just represented Costa Rica at the 2019 PARCs, faces off against #13 LPRT touring regular Cassie Lee.
– In the 15/18 match, 18yr old Ana Laura Flores takes on Ceci Orozco Pratt, an infrequent but long-time LPRT player.
round of 16 matches to look for:
– #1 Paola Longoria vs Mejia: wow, what an opener. Paola Longoria beat Mejia at the 2018 UnitedHealthcare US OPEN Racquetball Championships, but then Mejia topped her in the final of the 2019 Federación Mexicana de Raquetbol Nationals to claim the #1 seed at the 2019 International Racquetball Federation – IRF PARC championships. This is a semis or finals quality match right out of the gate. While Longoria remains the undisputed #1 player in the world, Mejia has the talent to be there some day. But on the pro tour, in the best of 5 format, Longoria's superior fitness will win out and she'll win on the day.
– #8 Frederique Lambert vs #9 Adriana Riveros; newly minted MD Lambert returns to the pro tour fold having shedded a ton of points as she finished off medical school. Lest anyone forget, Lambert was the #2 player on tour in both of the last two seasons … so she's a threat to win whenever she plays. But how rusty is she? I think she advances here.
– #3 Maria Jose Vargas Parada vs #14 Yazmine Sabja Aliss; they've only played twice, both in the back end of IRF tourneys in 2018. Vargas held serve to top Yazmine Sabja Ráquetbol to win the 2018 South American Games, then beat her again in the quarters of 2018 Worlds. Both native Bolivians, they meet in NY where Vargas has been playing really solid lately and advances.
– #6 Natalia Mendez vs #11 Masiel Rivera Oporto; Rivera has been playing well this season, making a quarter in her home country Bolivian Open. Natalia Mendez Erlwein has been pretty consistently advancing to pro tournament quarters and had a great run at the PARCs, making the semis.
Projected Quarters; this is almost identical to last weekend's Quarters, with only Lambert replacing Amaya.
– #1 Longoria over #8 Lambert: well, if Longoria wants this event, she'll be earning it, facing last year's 2nd best player here in the quarters. That being said, Longoria is 26-1 career on the LPRT over Lambert, so she likely moves on here.
– #5 Rhonda Rajsich over #4 Alexandra Herrera ; despite their seeds, Rajsich has never lost to Herrera (9-0 lifetime) and held on for a 5-game marathon win last weekend. I think she makes it 10-0 here.
– #3 Vargas over #6 Mendez: Argentina's #1 and #2, long-time doubles partners, and now facing each other for the fourth time in the last six weeks. Vargas should triumph again.
– #2 Samantha Salas Solis over #7 Nancy Enriquez; they met in the quarters last week, a 3-game win for Solis who improved to 7-1 career on LPRT over Enriquez and should advance here again.
Semis and Finals: I'm predicting the exact same results as San Antonio; Longoria over Rajsich, Salas over Vargas, and for the 7th time this season a final featuring Longoria and Salas.